October 30, 1913
Gabriel Akinola Deko, a Nigerian building contractor and former regional Minister for Agriculture in the    Western Region of Nigeria was born; he was also a personal friend of Awolowo.
October 1, 1954
British colony of Nigeria became a federation.
October 1, 1960
Nigeria gained independence from Britain (National Day) under Prime Minister Tafawa Balewa and President Nnamdi Azikiwe
October 1, 1960
When Nigeria obtained its independence, Northern and Southern Cameroons were given the option of staying as part of Nigeria or leaving Nigeria. Southern Cameroon decided to leave Nigeria, but Northern Cameroon stayed.
October 7, 1960
Nigeria was admitted to the United Nations as the 99th member. One of the earliest and most significant contributions to the UN was to furnish troops for the peacekeeping operation in Zaire in the early 1960s.
October 1, 1963
Nigeria severed its remaining ties with Britain, marking the birth of the Nigerian First Republic. Nnamdi Azikiwe was sworn in as first President after Nigeria became a republic within Commonwealth.
October 8, 1963
Nigeria played 2-2 draw in a friendly game with Liberia in Monrovia.
October 11, 1965
Western Regional elections took place today.
October 14, 1965
There were post-election riots in Lagos.
October 15, 1965
There was an incident in Ibadan broadcasting studio purportedly involving Wole Soyinka, who was declared wanted. Bola Ige was also arrested over another broadcast incident.
October 15, 1965
Nigerian students in London demonstrated over Western Nigerian elections. The demonstrators alleged that the United Progressive Grand Alliance (UPGA) had won 68 seats in the House of 94 but the Governor of the region, Sir Odeleye Fadahunsi, had called on the Nigerian National Democratic Party (NNDP) to form a government.
October 1966
More Igbos were massacred.
October 7, 1967
Biafran forces pushed out of the Midwest.
October 9, 1970
One of the officers most responsible for the Federal Nigerian Army's victory over the secessionist Biafra or Eastern Nigeria, Colonel Benjamin Adekunle, said in London today that the leader of the secessionist forces, Colonel Ojukwu, would be allowed to return to Nigeria.
October 4, 1975
General Murtala Muhammed set up Constitution Drafting Committee headed by Chief FRA Williams.
October 20, 1975
Head of State, Murtala Muhammed, opened new Constitution Drafting Committee meeting, comprising former politicians, lawyers, intellectuals, businessmen and journalists as members, who will draw up the constitution after his recent speech promising the country a return to democratic rule in October 1979.
October 1, 1977
General Obasanjo replaced thousands of civil servants and announced a timetable for the resumption of civilian rule. He also announced government's intention to create new states and to construct a new federal capital in the centre of the country.
October 8, 1977
Nigeria beat Egypt 4-0 in Lagos in a World Cup qualifier. It remained the biggest defeat of Egypt in any competitive game till date.
October 12, 1977
General Olusegun Obasanjo visited Washington in America. He met Jimmy Carter at the start of an official visit to the United States. It was the first visit ever by a Nigerian Head of State to the White House. It was during that visit that Carter was invited to come to Nigeria. The two leaders were known to share the same views on how a settlement in Rhodesia should be brought about and support for the Anglo-American plan was expected to feature in their discussions.
October 1, 1978
The late Head of State, General Murtala Ramat Muhammed, who was the torch bearer of the Nigerian Revolution July, 1975, was declared a national hero.
October 1978
The Head of State, General Olusegun Obasanjo, formally inaugurated a 230-member Constituent Assembly, although did not start business until a month later.
October 1, 1979
Nigeria returned to civilian rule after 13 years of military government. Inauguration of 54-year-old President, Alhaji Shehu Shagari, was the climax of the programme. Final preparations for the handover were well under way in Lagos, the country's capital.
October 1, 1980
The nation marked its 20th Independence and also the first anniversary of the Presidential system of government in the country.
October 2, 1980
A total of 133 Nigerians were conferred with the 1980 National Honours presented by President Shehu Shagari.
October 3, 1980
President Shehu Shagari left for New York on the first leg of his state visit to the United States.
October 25, 1980
President Shehu Shagari commissioned a new oil refinery in Kaduna which cost the Federal Government the sum of N503 million.
October 1, 1983
Nine re-elected governors and eight new ones were sworn in today in 17 states of the country. Re-elected President Shehu Shagari and Vice President Alex Ekwueme took oaths of office for their second term. Shagari announced a number of measures aimed at reviving the economic situation in the country to mark the 23rd anniversary of Nigerian Independence.
October 3, 1983
Oyo State television  station was closed down indefinitely by an executive order of the new governor of state, Dr. Omololu Olunloyo.
The ADC to the late General Murtala Muhammed, Lt. Akinsehinwa, was among the 137 Nigerians who bagged National honours.
October 5, 1983
Ninety-four people were killed in Ondo and Oyo states when political violence erupted in the two states during the last general election. Of those killed, 42 were from Ondo and 52 from Oyo.
October 8, 1983
Chief C. C. Onoh was today declared the winner of August 13 gubernatorial election by the Supreme Court.
October 10, 1983
Dr. Joseph Wayas was re-elected President of the Senate for a second four-year term.
October 13, 1983
Governor Omololu Olunloyo of Oyo State pruned down the number of ministries from 15 as operated by the previous administration to 12.
October 15, 1983
The Supreme Court dismissed the appeal filled by the NPN gubernatorial candidate in Ondo State, Chief Akin Omoboriowo. Six of the seven judges gave judgement in favour of the governor-elect, Chief Adekunle Ajasin, while Mr. Justice Ayo Irikefe dissented.
October 18, 1983
Chief Adekunle Ajasin was sworn-in for another term of four years by the Ondo Chief Judge, Mr. Justice Kunle Orojo.
October 19, 1983
The Supreme Court dismissed the appeal by Chief Bola Ige in which he challenged the election of Dr. Omololu Olunloyo.
October 21, 1983
Lagos University Teaching Hospital (LUTH) resident doctors numbering about 130 embarked on an indefinite strike action over what was called  'termination of appointment' of its members by the LUTH management board. The Nigerian Cocoa Board approved the N100 increase per tonne in producer prices for the 1983-84 season.
October 24, 1983
President Shehu Shagari turned down Senate's request that he should furnish it with the portfolios of his ministerial nominees before the House could start debate on them.
October 25, 1983
The Police in Lagos uncovered an illegal mint for the printing of forged Nigerian currency notes.
The first President of Anambra State University and the first African Vice Chancellor of the University of Ibadan, Professor Kenneth Dike, died.
October 26, 1983
The Supreme Court ordered a retrial of the petition by the NPN gubernatorial candidate, Chief Collins Obi, against the re-election of Governor Sam Mbakwe of Imo State.
October 27, 1983
The fire outbreak on the 25-storey complex housing the Federal Ministry of Defence occurred at the fourth floor where its Permanent Secretary had his office.
October 28, 1983
About 40,000 government workers in Ogun State embarked on an indefinite industrial action following a controversy with state government over the mode of disbursement of the N3 million released by the Federal Government to the state.
October 29, 1983
The Federal Government approved an interim grant of N3 million for those affected by the August 1983 rampage both in Oyo and and Ondo states.
October 30, 1983
Nigeria broke Ghana's football might at Accra before a big crowd when the Green Eagles beat the Black Stars by 2-1 to qualify for the 1984 Los Angeles Games in the United States of America.
October 1, 1984
Nigeria unilaterally reduced her crude oil prices by two dollars per barrel, in response to British and Norwegian price cut.
October 3, 1984
Some former ministers in the ousted Shagari administrations were released by the Federal Government. Prominent among those freed was the secessionist leader, Chief Emeka Ojukwu.
October 19, 1986
Dele Giwa, Nigerian journalist, editor and founder of Newswatch magazine, was killed by a mail bomb in his home. The assassination occurred two days after he had been interviewed by State Security Service.
October 20, 1986
The day after the bombing, the government convened a press conference presided over by Augustus Aikhomu. Before the press conference started, all press photographers were ordered out, while foreign journalists and Nigerians that worked for foreign news media were also ordered out. Those left behind were told that the briefing was "off record" and Aikhomu would not be entertaining any questions.
October 1989
Government of Gen. Ibrahim Babangida established two "grassroots" parties: the National Republican Convention (NRC), which was to be "a little to the right" and the Social Democratic (SDP), "a little to the left." Other parties were not allowed to register by the government.
October 1990
Umuechem massacre arising from oil community complaints and brutal government response.
October 1990
Ogoni Bill of Rights published.
October 10, 1992
Mr. Yommie Johnson surrendered in Monrovia, Liberia and was exiled to Nigeria.
October 8, 1993
Nigeria qualified for the World Cup for the first time, after a 1-1 draw with Algeria in Algiers.
October 10, 1993
Airbus A310 of Air Nigeria hijacked, one dead.
October 1, 1995
In address to the nation, Gen. Sani Abacha announced the timetable for a three-year transition to civilian rule. Only five of the political parties which applied for registration were approved by the regime.
October 31, 1995
The military government of Nigeria under Gen. Sanni Abacha tried Ken Saro-Wiwa and eight others, finding them guilty of the murder of four Ogoni people.
October 17, 1998
Jesse oil spill fire: Estimate of more than 1,000 dead.
October 27, 1999
Sharia Islamic law launched in Zamfara State.
October 26, 2000
Dornier aircraft plunged into a thick bush near the Niger Delta, killing its six occupants injured.
Ocotber 29, 2000
Riots erupted in Ajegunle, Lagos.
October 2001
Nigerian President Olusegun Obasanjo, South African President Thabo Mbeki and Algerian President Bouteflika launched the New Partnership for African Development (NEPAD), which aimed to foster development, open government and end wars in return for aid, foreign investment and the lifting of trade barriers to African exports.
October 2002
Religious violence erupted in the North over Miss World Pageant to be hosted in Abuja. It was thereafter shifted to London.
October 10, 2002
The International Court of Justice (ICJ) ruled against Nigeria in favour of Cameroon over the disputed oil-rich Bakassi Peninsula.
October 22, 2005
A Bellview Airline's Boeing 737 aircraft with 117 people on board crashed shortly after take-off from Lagos. All on board were killed.
October 23, 2005
Stella Obasanjo, Nigerian First Lady died a few weeks before her 60th birthday from complications of cosmetic surgery at a private health clinic in Puerto Banús, Marbella, Spain.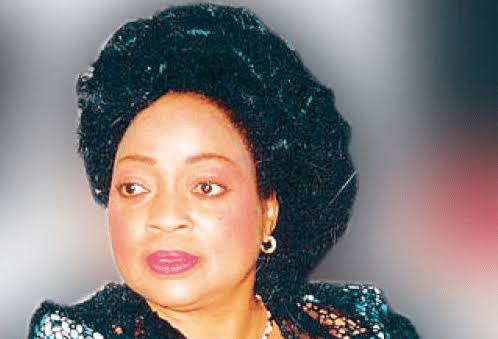 October 29, 2006
Sultan of Sokoto, Alhaji Muhammadu Maccido and others died in an Aviation Development Corporation (ADC), Airline's Boeing 737 aircraft with 104 on board minutes after take-off from Abuja's airport. All but six perished in the disaster, the country's third major air disaster in the year.
October 2008
Government announced major budget cuts following steep fall in the price of oil.
October 1, 2010 
Nigeria marked 50 years of independence. Celebrations in Abuja marred by deadly bomb blasts at Eagles' Square, Abuja.