November 14, 1862: Governor Henry Stanhope Freeman called on all British subjects to return from Abeokuta to Lagos, leaving their property, for which the chiefs of Abeokuta would be answerable to the British government.
November 10, 1880: The Lagos Times was established by Beale Blaize.
November 13, 1925: Sir Graeme Thomson became the Governor of Nigeria and ruled till June 17, 1931.
November 16, 1930: Novelist Chinua Achebe, author of Things Fall Apart, was born.
November 1, 1935: Sir Bernard Henry Bourdillon became Governor of Nigeria and ruled till July 1, 1940.
November 1949:  Akintola Williams qualified as Nigeria's first Chartered Accountant.
November 16, 1960: Dr. Nnamdi Azikwe was sworn in as Governor General of Nigeria.
November 16, 1961: Eastern voters went to the polls to elect a new government. The result gave the NCNC a clear majority.
November 2, 1962: Commencement of treasonable felony trial of Chief Obafemi Awolowo and 30 others before Mr. Justice G. Sodeinde Sowemimo at the High Court of Lagos.
November 12, 1962: Treason trial of Awo and co. opens in Lagos. Riots outside court claim one life and 50 arrested.
November 27, 1962: Enahoro arrested in London.
November 5, 1963: A recount of the people of Nigeria started after an unsuccessful one held in 1962.
November, 1963: The Nigerian Defence Academy (NDA) established.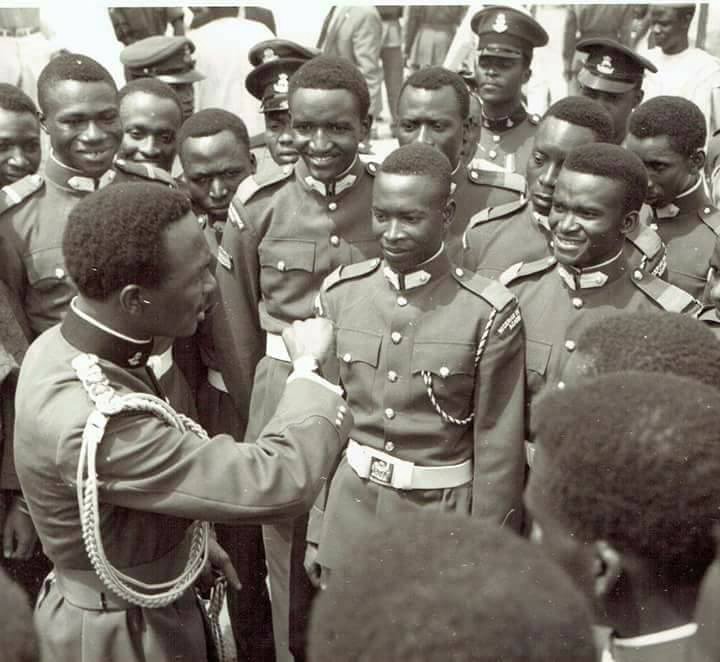 November 19 1965: Riots in Ijebu province over murder of an UPGA leader.
November 20, 1969: The first air disaster was the Nigeria Airways BAC VC10 that crash landed and killed 87 people.
November 26, 1969: Biafra called for Switzerland to mediate peace with Nigeria.
November 27, 1973: Population census began nationwide.
November 1978: At least 50 parties or political movements were registered ahead of elections. A Federal Election Commission (FEDECO) was created to oversee the October 1979 elections.
November 14, 1979: A revenue allocation committee headed by Mr. Pius Okigbo was set up.
November 16, 1979: The salary proposals for the members of the federal and state governments, National Assembly as well as some top government officials were approved by the House of Representatives in Lagos.
November 17, 1979: President Shehu Shagari rejected the annual salary of N50,000 approved for him by the National Assembly. He also disapproved the N30,000 approved for the Vice-President.
November 29, 1979: The National Assembly demanded that President Shehu Shagari give detailed statements of state of the nation's economy as at October 1, when he assumed office.
November 3, 1980: Alhaji Umaru Dikko, Transport Minister, appointed Chairman, Task Force on Rice Importation.
November 4, 1981: A monthly national minimum wage of N125 was fixed and its bill signed into law by President Shehu Shagari.
November 1, 1981: President Shehu Shagari laid a foundation stone of the Steel Rolling Mills.
November 3, 1981: The NPN National Chairman, Chief Augustus Adisa Akinloye, disclosed that the President, Alhaji Shehu Shagari, would be re-nominated for a second term in office.
November 10, 1981: The House of Representatives gave its blessing to the fielding of independent candidates for future elections. An amendment to clause 28 (2) of the Electoral Bill, 1981, allowed an independent candidate to contest or stand for election.
November 11, 1981: The House of Representatives rejected a three-year tax clearance certificate as condition for qualification of candidates for future elections.
November 17, 1981: The House of Representatives threw out the controversial electronic and mechanical devices issue from the Electoral Bill.
November 25, 1981: The House of Representatives resolved to put the mass media under censorship three months before and a month after the election.
November 17, 1981: The first civilian governor of Sokoto State, Alhaji Shehu Mohammed Kangiwa, died while playing polo.
November 25, 1982: President Shehu Shagari approved N1.1 million to assist victims of religious disturbances in Bulunkutu, Borno State.
November 17, 1983: General Sani Abacha came to power to become Nigeria's 10th leader to rule the country.
November 27 1983: Nigeria Airways F28 aircrash in Emene near Enugu, killed at least 66 people.
November 29, 1983: Chief Edwin Ume-Ezeoke, Speaker of the House of Representatives shot and wounded in his Ikoyi, Lagos official residence.
November 8 1984: Fela Anikulapo-Kuti jailed five years in Lagos for foreign currency smuggling.
November 10 1988: Alhaji Ibrahim Dasuki became the new Sultan of Sokoto.
November 3, 1989: The Nigerian press goofed by announcing the demise of Dr. Nnamdi Azikwe.
November 21, 1991: General Olusegun Obasanjo contested post of Secretary-General of the United Nations but lost to Boutros Boutros-Ghali of Egypt.
November 17, 1992: Ibrahim Babangida, Chairman of the Armed Forces Ruling Council, announced a further postponement of transition to civilian rule. It would take place in August 1993.
November 18, 1992: Handover date shifted to August 1993. Option A4 presidential system announced. All previous presidential aspirants banned.
November 8, 1993: Chief Ernest Shonekan increased petrol pump price per litre to N5.
November 17, 1993:  Gen. Sani Abacha seized power from the Interim National Government and suppressed opposition.
November 19, 1993: Pro-democracy supporters clashed with government troops.
November 24, 1993: New Federal Executive Council and Provisional Ruling Council convened. Sanctions imposed by UK and European Union after the annulment of presidential election continued.
November 10, 1995: Writer and political activist, Ken Saro-Wiwa, was executed by the Nigerian military government after being charged with the murder of four tribal leaders. His execution was widely condemned across the world and helped turn Nigeria into a 'pariah' state. In protest of the execution that same day, United States of America and the European Union imposed sanctions on Nigeria.
November 13, 1995: Nigeria Airways Boeing 737-2F9 crashed on landing in Kaduna, killing nine.
November 1995: British Commonwealth suspended membership of Nigeria. An ultimatum was given that civilian rule must be restored within two years or the suspension would be permanent. Diplomats from South Africa, US and EU were withdrawn.
November 7, 1996: Jaja Wachuku, Nigerian lawyer and first Foreign Affairs Minister, died.
November 7, 1996: A Nigerian ADC (Aviation Development Corporation) Airline Boeing 727-231 flying from Port Harcourt to Lagos with 142 passengers and nine crew members crashed on landing, plunging into a lagoon with all on board killed.
November 16, 1996:  Dr. Nnamdi Azikwe was buried in Onitsha, Anambra State.
November 4, 1998: Soyinka returned home after four years of exile.
November 2, 1999: Nigeria started to use its (N100) one hundred naira note.
November 19, 1999: Odi community in Bayelsa State razed.
November 20, 1999: The Nigerian Armed Forces, on direct orders from the Commander-in-Chief, President Olusegun Obasanjo, ravaged the town of Odi in Bayelsa State, killing many innocent men, women and children in what was described as worst human rights violation of the government. The mission of the expedition to Odi was supposed to apprehend a group of hoodlums who had murdered 12 officers and men of the Nigeria Police.
November 25-26, 1999: Ketu riots.
November 1, 2000: Nigeria introduced N200 note.
November 2, 2002: Nigeria introduced N500 note.
November 22, 2002: More than 100 people were killed in an attack aimed at the contestants of the Miss World beauty pageant.
November 17, 2001: Miss Agbani Darego of Nigeria became the first to win Miss World in Africa.
November 2002: Many lives were lost in four days of protest stoked by fury from Northern Nigeria over planned Miss World beauty pageant in Abuja.
November 16, 2004: National Open University of Nigeria (NOUN) matriculated its pioneer students nationwide.
November 10, 2006: OAS Service Helicopter crashed in Warri, Delta State, killing four on board.
November 2007: The Nigerian Senate overturned the agreement to cede Bakassi Peninsula to Cameroon. Twenty-one Cameroonian soldiers were killed in the peninsula by suspected Nigerian militants.
November 2008: Military launched crackdown on oil thieves.
November 15, 2009: Top Nigerian officials met with MEND leaders in the capital, Abuja, to discuss plans for development of the oil-producing region as part of a drive to end the long-running insurgency.
November 23, 2009:  President Yar'Adua travelled to Jeddah, Saudi Arabia to be treated for a heart-related ailment. His extended absence triggered a constitutional crisis and led to calls for him to step down.
November 2010: A shipment of arms from Iran destined for Islamic radicals was intercepted by Nigerian security forces.
November 10, 2012:  The 360 members of the House of Representatives returned to their federal constituencies to consult with the electorate who gave them the mandate of representation.